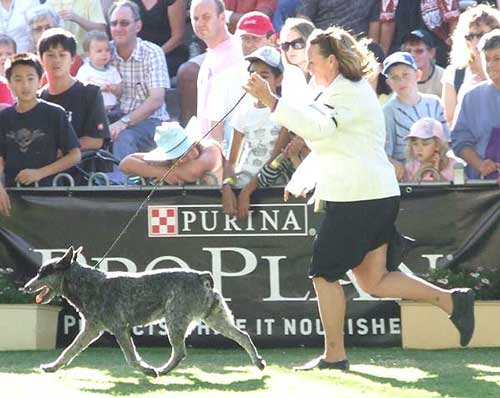 Ambajaye Kennels celebrates an historic achievement for the Australian Stumpy Tail Cattle Dog, winning Best in Group, Best Breeders' Team and Best Australian Working Dog at the 2007 Sydney Royal under Lithuanian judge Mrs K Butrimova. Best in Group winner Grand Champion Ambajaye High Tail It very nearly didn't make it to the Royal at all.
This win symbolises the 'arrival' of the Australian Stumpy Tail Cattle Dog as never before. A far cry from near-extinction in 1988, when the ANKC introduced a development program to save this unique Australian working breed, the 'stumpy' has now become a force to be reckoned with in every arena.
The recent win was widely regarded by fellow competitors and spectators as one of the most popular ever seen and was greeted by enthusiastic approval from those that witnessed this historic and emotional occasion.
Mrs Merchant of Ambajaye Kennels has become synonymous with the ASTCD and from the early days of the development program has been committed to producing sound dogs that conform to the breed standard and are of exceptional type and temperament. She has been published widely both within Australia and in several languages internationally where the breed is attracting interest. Mrs Merchant is considered the leading authority on the ASTCD worldwide and has been a passionate campaigner of the breed throughout its redevelopment.
Mrs Merchant has campaigned the breed widely throughout Australia and has commanded the attention of judges and peers with her presentation of the breed. Ambajaye has been responsible for producing multi BIS and BISS winning dogs, plus herding, obedience and agility titled dogs, as well as therapy dogs and much-loved companions. Ambajaye has raised the profile of the ASTCD and continues to demonstrate the ability and versatility of the breed across every discipline.
In July 2005, after six years of arduous research and preparation, Mrs Merchant and Lisa Kennedy of Alkina Kennels together completed a successful submission to the FCI for international recognition of this unique breed. Ambajaye Kennels has also been dedicated to developing DNA tests for hereditary disease (prcd-PRA) in the breed as well as for colour genotyping and has a long history of commitment to standard health tests such as hip and elbow scoring and BAER testing (for deafness).
With the final close of the development program in December 2006 it is fitting that Mrs Bernadette Merchant of Ambajaye Kennels has in 2007 enjoyed the culmination of two decades of dedication and the highest honour in the history of the breed. The Australian Stumpy Tail Cattle dog now looks forward to the next phase in the journey and the future of the breed can be considered to be in very safe hands at Ambajaye.