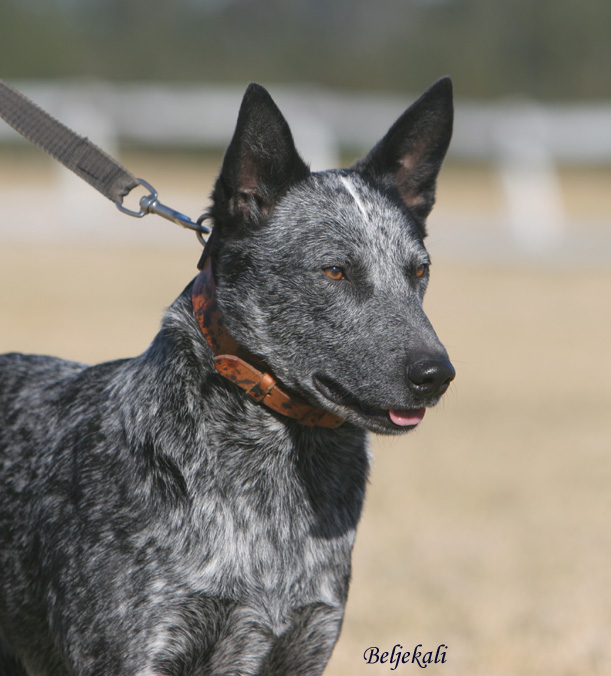 CH AMBAJAYE EVERY DETAIL PT CD ET aka "Hunter" was bred under the 'Ambajaye" prefix but  reared at 'Wherry's". My kids have all left home ( thank GOD ) and "Wherry" has her daughter and 2 granddaughters living with her.
Now we all know there is nothing better than a couple of kids to aid in the temperament/socialisation of puppies.
All along I said to 'Wherry" – "if you want a puppy from this litter -it's your's".
All our litters are special but this one more so than normal. These babies are sired by "Wherry's" beloved "Stanley" aka CH AMBAJAYE TAILSAREPATCHN.E.T. 'Wherry" was VERY tempted but declined. Her heart was still anchored with her ACD's.
The puppies where all sold and placed in their new homes with rave reviews from their new parents. Another job well done by Wherry, Alanah, Sarafina and Kim.
Then fate stepped in. "Hunter" was returned to us at 7 mths of age. "Hunter" is a lot of dog with energy to burn and then some. He had been lightly shown but was not comfortable with the show ring.
We were looking for "something ' that "Hunter" and Wherry could start -together-something new- a beginning for them both.
"Hunter" needed a JOB and we had to find one for him.
"Wherry" decided to put him on sheep and see what he could really do. "Hunter" showed natural ability and also natural "eye" which even I had to SEE to believe.
The Stumpy is a driving/heeling breed and is not bred to "eye". I got a VERY excited phone call from "Wherry' that day telling me "just how GOOD this young dog was" . He was 8mths old.
At the ripe young age of 10 months "Hunter " and Wherry gained their  passes required for his H.I.C. and at 14 mths he achieved both his breed title and his H.T. title within a week of each other.
It has been very hard for "Hunter" being campaigned in the breed ring against his grandfather" GD CH Ambajaye High Tail It " but he has always done us  proud and has picked up many Classes in Group and Classes in Show along the way.
"Wherry" has big things planned for this young dog and he has already started his agility training and obedience training. The more you ask of him – the MORE he gives, the MORE he wants and the more he loves it.
"Wherry" has always had a dream and one I will share with you all.
She has always dreamed of a Best Of Breed and a  Jack Goldstein at Sydney Royal with an ACD. She has already achieved one half of her dream with a Best Of Breed at Sydney Royal with the mother of "Hunter" – Cash –  "CH Tollbar Miss N Cash – A STUMPY OF COURSE. Maybe -just maybe the 2nd part of her dream will happen but with the REAL BREED—her Australian Stumpy Tail Cattle Dog "Aust Ch Ambajaye Every Detail.H.T."
I am very proud of "Hunter' and "Wherry" and if you have never seen the PERFECT dog just ask "Wherry" and she will show you one.
Bernadette Merchant